Genesis 35 - 37 | Psalm 11
Apr 6, 2021
Resources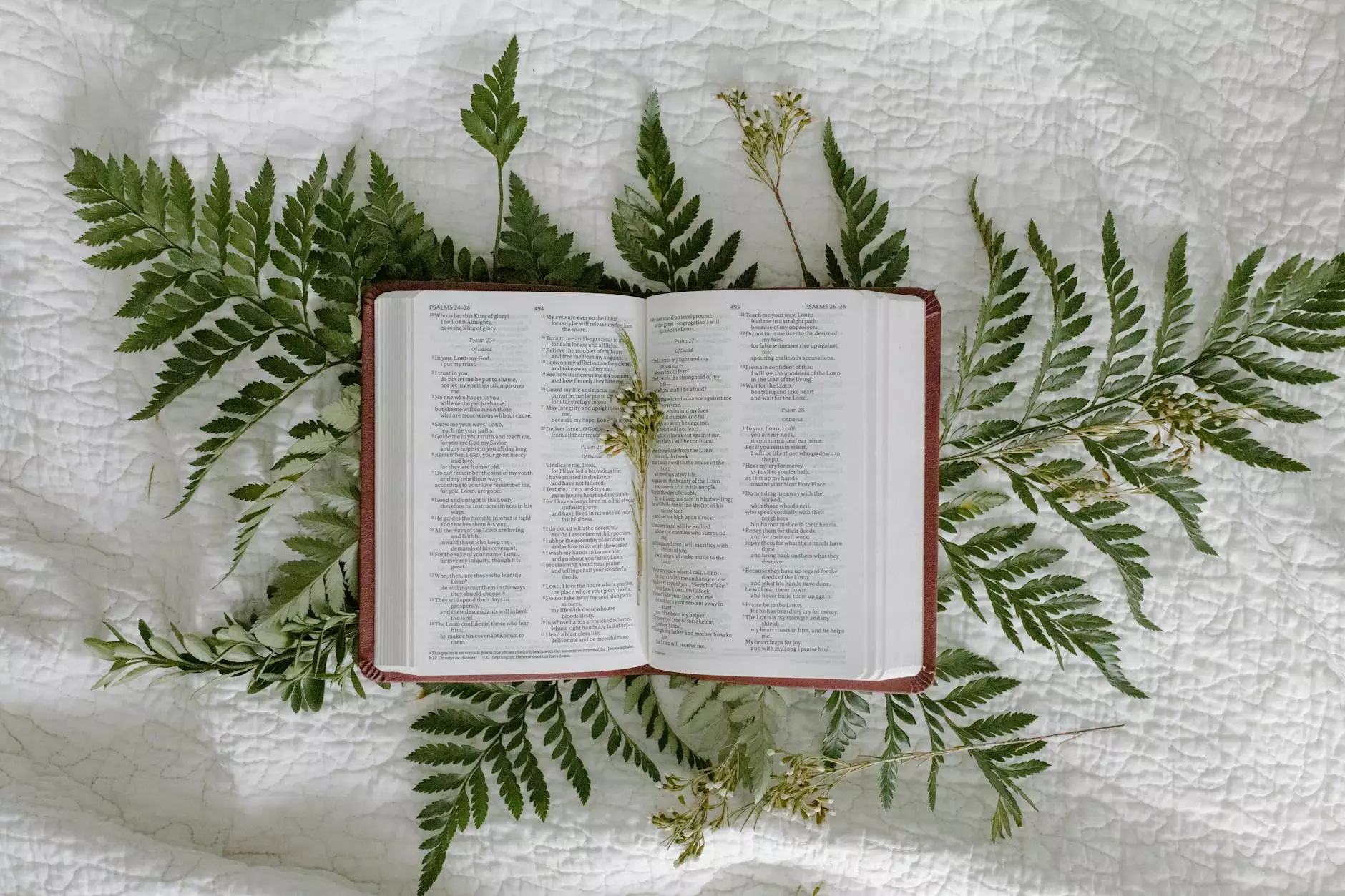 The Connecticut Korean Presbyterian Church Welcomes You
Welcome to the Connecticut Korean Presbyterian Church's page dedicated to the Scripture readings for Genesis 35 - 37 and Psalm 11. We are a vibrant and faith-filled community that aims to explore and deepen our understanding of God's Word. Join us on this spiritual journey as we delve into the rich wisdom found within these sacred texts.
Genesis 35: The Promise Renewed
In Genesis 35, we witness an incredible moment in the biblical narrative where God reaffirms His covenant with Jacob. This chapter highlights the importance of worship, as Jacob returns to Bethel to fulfill his vow to God. It is here that God blesses Jacob, changes his name to Israel, and promises him numerous descendants and the land of Canaan. As we study these verses, we are reminded of the faithfulness and unwavering love of God.
Key Themes in Genesis 35
The chapter emphasizes the significance of spiritual renewal and surrender to God's will. Jacob's journey to Bethel signifies his desire to reestablish his relationship with God and seek His guidance and protection. Additionally, the concept of divine blessings and the fulfillment of God's promises remains prevalent throughout this passage.
Reflection: Seek God's Presence
As we explore this passage, it prompts self-reflection. How do we seek God's presence in our lives? Are we willing to let go of our own plans and surrender to His will? Genesis 35 serves as a powerful reminder of the transformative power of worship and the importance of making time to connect with God.
Genesis 36: Tracing the Genealogy
Genesis 36 provides a detailed account of Esau's genealogy, listing his descendants and the regions they inhabited. Though seemingly different from the preceding chapters, this genealogy serves as a historical record, highlighting God's faithfulness in fulfilling His promises and preserving the lineage of Jacob and Esau.
Understanding the Genealogical Account
By delving into the biblical genealogies, we gain insight into the grand narrative of God's plan for humanity. These detailed records reveal how God works through specific individuals and generations to shape history. The genealogy in Genesis 36 showcases the fulfillment of God's promise to Esau, despite his divergence from the path originally set for the chosen people of God.
Lessons Learned
As we study this genealogical account, it reminds us of the intricate tapestry of God's divine plan. We can learn that even during times of divergence, God's grace and faithfulness prevail. This passage encourages us to trust in God's sovereignty and His ability to work through unexpected circumstances.
Genesis 37: Joseph's Dreams and Trials
Genesis 37 unveils the remarkable story of Joseph, Jacob's favored son, and his vivid dreams that hint at his future role as a leader. However, Joseph's dreams spark jealousy among his brothers, leading them to plot against him and eventually selling him into slavery. This narrative explores themes of family dynamics, envy, divine guidance, and the sovereign plan of God.
The Power of Dreams
Joseph's dreams serve as a central focus of this chapter and play a crucial role in God's unfolding plan. While the dreams initially cause conflict within Joseph's family, they ultimately lead to the fulfillment of God's purpose, as Joseph rises to become a prominent figure in Egypt.
Overcoming Trials with Faith
Joseph's journey offers valuable lessons on resilience and faith in the face of adversity. Despite the challenges and injustices he faces, Joseph never loses hope in God's faithful provision. His unwavering trust in God becomes the guiding force that ultimately brings about redemption and restoration.
Psalm 11: Taking Refuge in the Lord
Psalm 11 is a heartfelt prayer that highlights the unwavering faith of the psalmist in the face of adversity. It serves as a reminder to trust in God's righteousness, justice, and protection, even when confronted with overwhelming challenges.
Seeking God's Refuge
In times of distress, the psalmist turns to God as their refuge, finding solace in His steadfast love and unwavering presence. The psalmist's declaration of confidence in God's sovereignty and righteous rule inspires us to rely on the Lord as our shelter amidst the storms of life.
Reflection: Embracing God's Promises
As we meditate on Psalm 11, we are encouraged to take refuge in God's promises. It is through unwavering trust and reliance on His wisdom and guidance that we can navigate the challenges of life. This psalm serves as a reminder of the strength and security found in placing our faith in God.
Connecticut Korean Presbyterian Church: Strengthening Faith and Beliefs
At the Connecticut Korean Presbyterian Church, we strive to foster a community deeply rooted in faith, worship, and the study of Scripture. Through the exploration of passages like Genesis 35 - 37 and Psalm 11, we aim to provide our members with a comprehensive understanding of God's Word and its relevance in everyday life.
Join Our Faith-filled Community
If you resonate with our mission and desire to deepen your faith, we invite you to join us at the Connecticut Korean Presbyterian Church. We offer a welcoming and inclusive environment where individuals from diverse backgrounds can come together in worship, fellowship, and spiritual growth. Together, let us embark on this journey of faith and transformation.
Learn More About Our Community
Visit our website to explore our various ministries, events, and opportunities for involvement. We offer a range of programs tailored to different age groups, including Sunday School, youth groups, and adult Bible studies. Engage with our vibrant community and discover the richness of a life centered on Christ.
Connect with Us
For any inquiries or further information, please don't hesitate to contact us. We look forward to connecting with you and supporting you on your spiritual journey. May God's blessings be upon you.