Thanksgiving Care Package
Jan 4, 2018
Events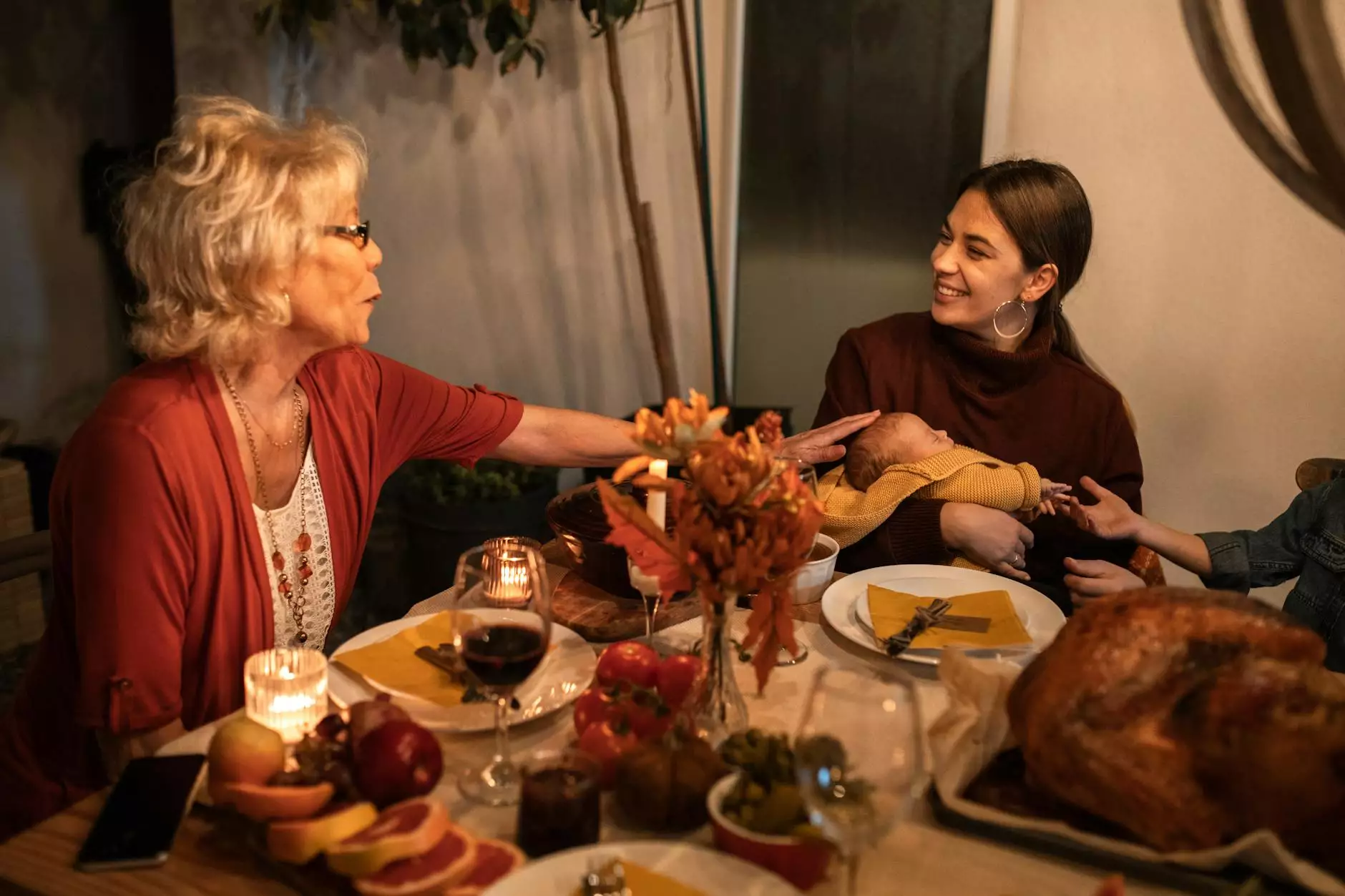 Welcome to the Connecticut Korean Presbyterian Church's Thanksgiving Care Package page. We are excited to invite you to join us for a meaningful and joyous celebration of Thanksgiving with our community. This page provides you with information about our upcoming events, services, and how you can contribute to our Thanksgiving Care Package charity drive. Let's come together and make a difference in the lives of those in need!
Upcoming Events
Our Thanksgiving Care Package program aims to provide support and assistance to individuals and families who may not have the means to enjoy a traditional Thanksgiving meal. We organize various events leading up to Thanksgiving Day to ensure that everyone feels the warmth and love during this special time of the year.
Fundraising Dinner
Join us for a delightful evening of good food and great company at our annual Fundraising Dinner. The proceeds from this event go directly towards purchasing the necessary supplies for our Thanksgiving Care Packages. It's an opportunity for the community to come together, enjoy a delicious meal, and contribute to a worthy cause. Reserve your spot today and be a part of something extraordinary.
Care Package Preparation
Volunteers play a crucial role in the success of our Thanksgiving Care Package program. We need your support to assemble and pack the care packages that will be distributed to those in need. Whether you have a few hours to spare or want to lend a helping hand throughout the process, your participation will make a difference. Sign up today and let's make this Thanksgiving a memorable one for our community.
Services and Programs
At Connecticut Korean Presbyterian Church, we offer a wide range of services and programs that promote a sense of belonging, spirituality, and social connection. We believe that faith and community go hand in hand, and we strive to create an inclusive environment where everyone can grow, learn, and thrive together.
Worship Services
Our worship services are a cornerstone of our community. Join us for our weekly Sunday services, where we come together to celebrate our faith, reflect on our blessings, and find strength and inspiration for the week ahead. Our services are conducted in both English and Korean, ensuring that everyone can actively participate and feel a sense of belonging.
Youth Programs
We value the younger generation and understand the importance of providing them with a nurturing environment to learn and develop their faith. Our youth programs offer a range of activities, including Bible study sessions, interactive discussions, community service projects, and fun outings. Engage, grow, and build lifelong friendships through our vibrant youth community.
Contribute to the Thanksgiving Care Package Charity Drive
One of the highlights of our Thanksgiving celebrations is our annual charity drive for the Thanksgiving Care Package program. This initiative allows us to reach out to individuals and families in our community who may be experiencing financial hardship or other challenges during the holiday season. Your support can make a significant impact in their lives.
How to Donate
Contributing to our Thanksgiving Care Package charity drive is easy. You can choose to donate non-perishable food items such as canned goods, dry pantry staples, and other festive treats. Additionally, we appreciate monetary donations that enable us to purchase fresh produce and other essentials for the care packages. Every donation, big or small, counts and helps us spread joy and hope to those in need.
Volunteer Opportunities
If you would like to go beyond donations and directly contribute your time and energy to our cause, we have various volunteer opportunities available. From assisting with the collection and sorting of donations to helping distribute care packages, your involvement is invaluable. Together, we can make a meaningful difference in our community and create lasting memories of gratitude and compassion.
Join Us for a Memorable Thanksgiving
At Connecticut Korean Presbyterian Church, we believe that Thanksgiving is a time to come together as a community, express gratitude for our blessings, and extend a helping hand to those in need. We invite you to join us in this spirit of togetherness and compassion. Together, let's make Thanksgiving a joyous and fulfilling celebration for all.